THIS Summer ,
Follow their Tour de Force and support them !
3TH EDITION COMING 13 JULY 2023

Get the special edition GRAND COLOMBIER 2023 outfit now and stand out with style!
Be ready to face all challenges with our exclusive collection, designed to provide you with comfort, performance, and elegance.
Equip yourself today with the outfit that will make you a true champion of fashion and generosity.
A LEGENDARY MOUNTAIN EVERY YEAR
Together Stronger, founded by V-Europe, is a unique sporting event bringing together several associations of victims of terrorism from Europe and beyond. They unite to make their voices heard and to raise public awareness of the impact of terrorism on victims, whether direct or indirect, with the aim of raising funds.
Through sister associations recognised by the European Commission and/or the United Nations, the movement represents the values of dignity and respect for the victims of terrorism. All participants - whether survivors or victims of this new scourge of humanity - climb in memory of all those who did not survive, as well as in solidarity with all those who have not yet recovered the ability to bounce back and build a new life.
The race takes place the day before the Professional Stage and the day is dedicated to the victims of Terrorism around the world. Following Mt Ventoux in 2021 and Alpe d'Huez in 2022, on 13 July 2023 we will be tackling the Grand Colombier, another legendary mountain pass considered to be one of the most difficult in the Tour de France.
GRAND COLOMBIER 2023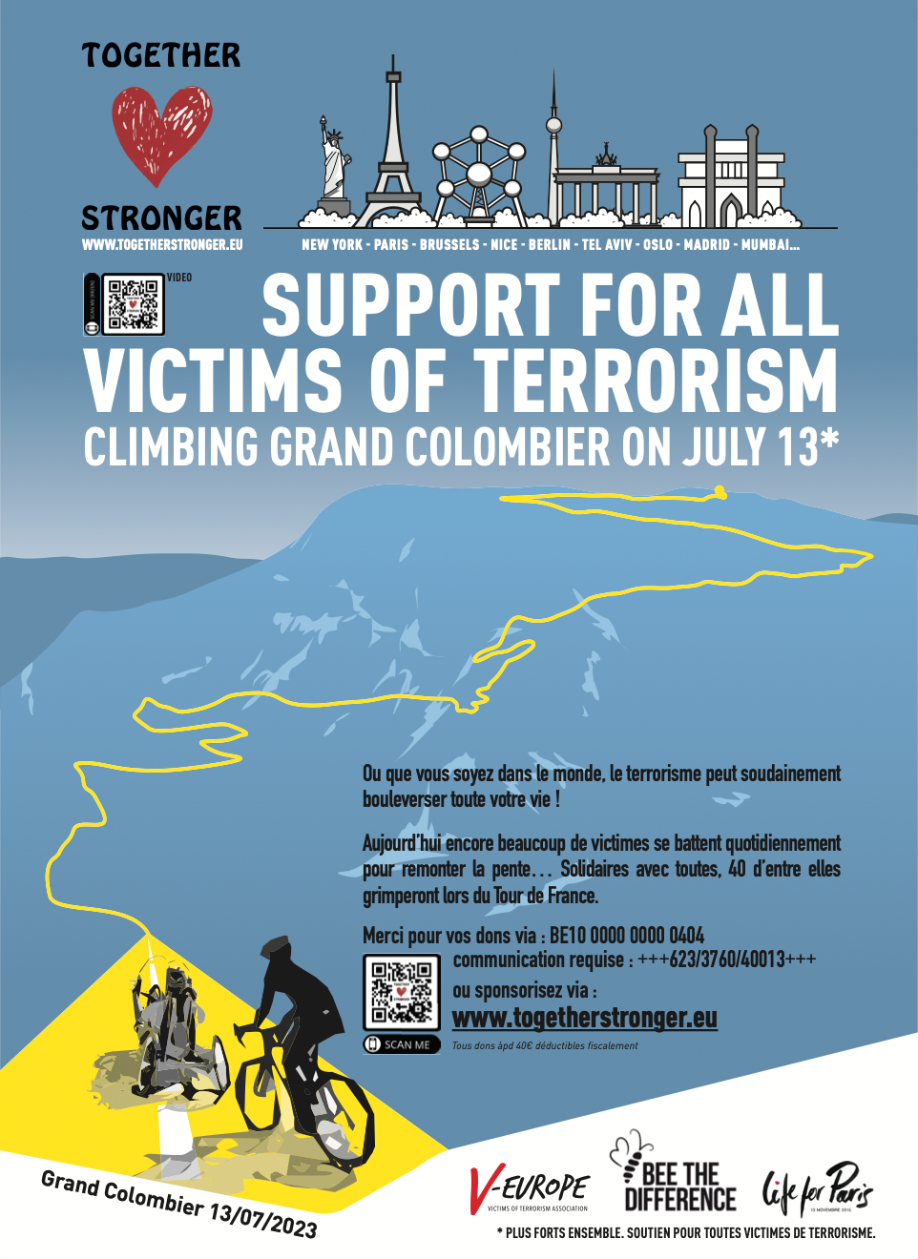 OUR GOAL
1° To honour the memory of all those who have died and express solidarity with those who are still trying to rebuild their lives.
2° To obtain financial support from the general public in order to provide the best possible support for the lifelong consequences of these acts, which force people to undergo one of the hardest reconstructions, financially, physically, emotionally and psychologically.
3° To keep up the pressure on all States regarding their obligation and responsibility to provide rapid, effective and complete support for the daily consequences that each victim must overcome in order to reintegrate into society. Reintegration of the highest quality, so much a proven force for enriching extra-human values.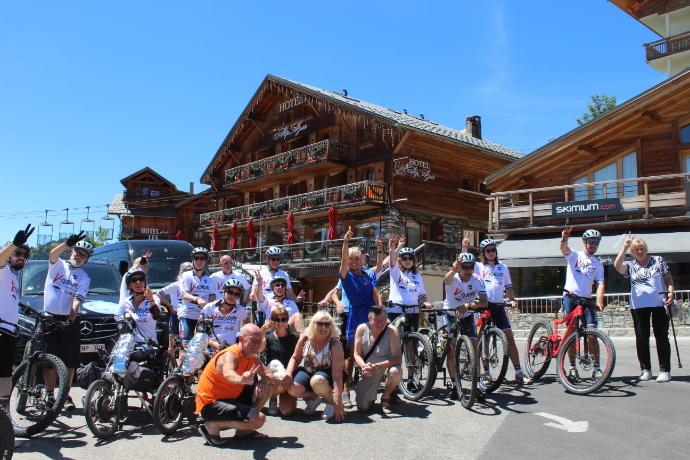 100% OF DONATIONS TO HELP VICTIMS OF TERRORISM
Worldwide, there have been over a million direct victims and over 9 million indirect victims. New attacks occur every year. The support and help given to victims is vital. Together Stronger was founded with the aim of transforming powerlessness in the face of the damage caused by terrorism into strength for action. Under the motto "Together Stronger" we accept no limits as to what we can achieve.
100% of donations are used to help victims and for the duty of remembrance. They also serve to change the way governments support the victims of these acts, because let us not forget, anyone can be affected at any time.

Do you wish to support us ?

#togetherstronger
ALL CONCERNED
Terrorism affects us all wherever we are in the world it can change our whole life in a split second!
Still today many victims face a daily fight to recover.... let us not forget them!
In this year of harrowing court trials and anniversaries (Paris/St Denis, Brussels, Nice, New York, Barcelona, Tel-Aviv, ...)victims of terrorist attacks will clim the legendary Grand Colombier on the 13th of July to demonstrate the route to resilience and to appeal to the generosity of the grand public.
Whether for current or future victims, let us join togetherto support national and international initiatives to help them.
Thanks for supporting the Grand Colombier clim during the Tour de France.
From challenging summits to victorious ones

Join us in our quest to help victims of terrorist attacks conquer the Col du Colombier mountain